---
A note on posters: Less than 4 days could result in a RUSH Charge of $33 Example for NO RUSH Fee: Submit on Monday (before 4:00 pm) to pick up on Thursday.
Effective 4-4-2023: Express Copy pricing has increased .01 per impression.
WHAT'S AN EXPRESS COPY?
Color - .12 per copy | Black only - .05 a copy | $1 minimum
8.5 x 11
one or two sided (charge is per side)
limit of 2000 single side, 1000 double sided
in before noon, pick up the same day
Online order with your uploaded file
includes white paper
print as is
Front Desk: 402.559.4282 | print4u@unmc.edu
Jolene Gulizia, Graphics Supervisor | 402.559.7107 | jkgulizi@unmc.edu
Tara Witte, Senior Graphic Designer | 402.559.7105 | tara.witte@unmc.edu
---
Place your order with quick links or on the NEW ORDER tab at the top!
Click on the Drop Down Menu for:
Printing Orders (most orders here)
Business Cards (UNMC, UNO)
Stationary (UNMC, UNO Letterhead & Envelope)
Store (quick purchase for assorted items such as note cards, generic envelopes, confidential envelopes, paper, etc.)
Cost Center numbers are loaded individually. You must have a valid number before we can approve your account. Email: print4u@unmc.edu with a list of numbers you will be using. Note: Credit Card Customers - For security reasons - - USE 3398130056 for your Cost Center Number when filling out your order. You may call us at 402.559.4282 to give us your information over the phone. If you plan on picking up your order in person you can use your credit card at that time. We accept Visa and MC.
We are a full service printing and copying center located in the Materials Management Building, Annex 22. We offer a variety of services and products. Copies, brochures, postcards, scientific posters, books, lamination and specialty products to name just a few!
Come by and visit; we look forward to being of service!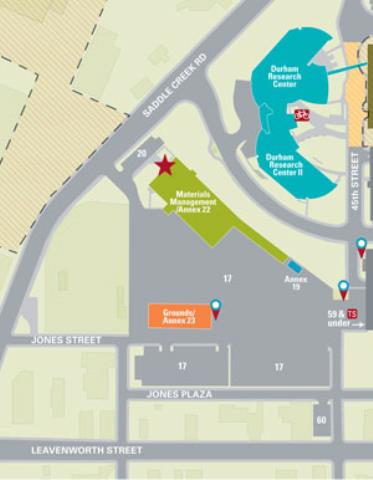 ---